WSFM
Location
Sydney
Format
Adult Contemporary
Launched
1978 (2WS)
1993 (WSFM)
Frequency
Current
101.7FM
Previous
1224AM (1978-1993)
Callsign
Current
2UUS
Previous
2WS (1978-1993)
Owner
Australian Radio Network
Network
Pure Gold Network
Co-locate
KIIS 106.5
WSFM is an adult contemporary station in Sydney and is owned by Australian Radio Network. The station launched in 1978 to serve Sydney's Western Suburbs; which is represented in its original callsign 2WS. When it converted to FM, it kept that title with its three-letter callsign 2 Double-U S (2UUS).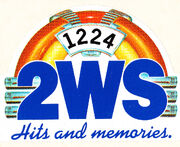 Like its sister station in Melbourne (Gold 104.3), 2WS had a hits and memories format.
In 1993, 2WS converted to FM and became a Sydney-wide station. It was known as 2WS FM until 2001 when its name was shortened to WSFM.
In the 1980s, 2WS was bought by Wesgo who took the station to FM. In 1994, Australian Radio Network bought 2WS FM from Wesgo and Mix 106.5 became its sister station.
In 2014, Mix 106.5 switched to a top 40 station and renamed KIIS 106.5. WSFM moved from a classic hits format to adult contemporary to fill the void.