Triple M 104.5
Location
Brisbane
Format
Rock
Launched
1980 (FM 104)
1988 (Triple M)
Frequency
Current
104.5FM
Previous
104.1FM (1980-1989)
Callsign
Current
4MMM
Owner
Southern Cross Austereo
Network
Triple M
Co-locate
Hit 105
Triple M 104.5 is a rock station in Brisbane and is owned by Southern Cross Austereo. The station was the start of commercial FM radio in Brisbane being the first and only station to launch in 1980.

It launched on 104.1FM using its callsign 4MMM. Its callsign was chosen to promote its three songs in a row (triple music) policy. In December 1982, the station rebranded as FM 104 with its kangaroo guitarist.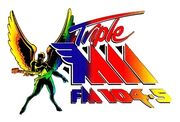 In 1988 Hoyts Media, owner of Triple M Sydney, bought FM 104 and the station started using the Triple M name. The following year, the station moved from 104.1FM to 104.5FM.
In 1994, Austereo bought Triple M from Hoyts Media bringing Triple M and B105 (Hit 105) under the same ownership. This was followed in 2011 when Austereo merged with Southern Cross Media, creating Southern Cross Austereo.