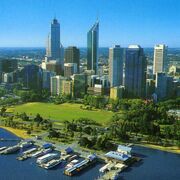 Commercial radio arrived in Perth in 1931 with the launch of 6PR. They were followed by 6IX in 1933 and 6PM (now Hit 92.9) in 1937. Perth's fourth and last commercial AM station launched in 1941 with 6KY (now Mix 94.5).
FM radio arrived in Perth in 1980 with the launch of 96fm. In 1990, 6PM converted to Hit 92.9 followed by 6KY becoming Mix 94.5 the following year. After a gap of 22 years, Perth's 2nd commercial FM station launched with Nova 93.7 in 2002.
Perth has four commercial FM stations - 96fm, Hit 92.9, Mix 94.5, Nova 93.7 - and two commercial AM stations - 6PR and 6IX.
AM stations
Edit
Frequency
Callsign
Name
Format
Owner
585
6PB
ABC NewsRadio
News & Current Affairs
Australian Broadcasting Corporation
720
6WF
720 ABC Perth
ABC Local Radio
Australian Broadcasting Corporation
810
6RN
ABC Radio National
News, Arts & Culture
Australian Broadcasting Corporation
882
6PR
6PR
News, Talk, Sport
Macquarie Radio Network
1080
6IX
6IX
Classic Hits
Capital Radio Network
Grant Broadcasters
1206
6TAB
TAB Racing Radio
Racing
Racing and Wagering Western Australia
FM stations
Edit
Frequency
Callsign
Name
Format
Owner
92.9
6PPM
Hit 92.9
Top 40
Southern Cross Austereo
93.7
6PER
Nova 93.7
Top 40
Nova Entertainment
Australian Radio Network
94.5
6MIX
Mix 94.5
Adult Contemporary
Southern Cross Austereo
96.1
6NOW
96fm
Rock
Australian Radio Network
97.7
ABC FM
ABC Classic FM
Classical Music
Australian Broadcasting Corporation
99.3
6JJJ
Triple J
Alternative Rock
Australian Broadcasting Corporation
AM
FM
Australian Broadcasting Corporation
720 ABC Perth
ABC NewsRadio
ABC Radio National
ABC Classic FM
Triple J
Capital Radio Network
Grant Broadcasters
6IX
Macquarie Radio Network
6PR
Nova Entertainment
Nova 93.7
Australian Radio Network
96fm
Southern Cross Austereo
Hit 92.9
Mix 94.5
Latest Ratings
Edit
 %
13.9

◼

Mix 94.5
Adult Contemporary
Southern Cross Austereo
11.3

◼

96fm
Rock
Australian Radio Network
11.1

◼

Nova 93.7
Top 40
Nova Entertainment
10.7
720 ABC Perth
ABC Local Radio
ABC
9.2
Triple J
Alternative Rock
ABC
9.0
6PR
News, Talk, Sport
Macquarie Radio Network
6.5

◼

Hit 92.9
Top 40
Southern Cross Austereo
4.9
6IX
Classic Hits
Capital Radio Network
Grant Broadcasters
Licence Area
Edit