Mix 94.5
Location
Perth
Format
Adult Contemporary
Launched
1941 (6KY)
1991 (Mix 94.5)
Frequency
Current
94.5FM
Previous
1210AM (1941-1978)
1206AM (1978-1991)
Callsign
Current
6MIX
Previous
6KY (1941-1991)
6JKY (1991-1998)
Owner
Southern Cross Austereo
Network
LocalWorks
Co-locate
Hit 92.9
Mix 94.5 is an adult contemporary station in Perth and is owned by Southern Cross Austereo. The station started its life as 6KY and was Perth's fourth and last commercial AM station launching in 1941.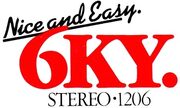 6KY was started by AWA (Amalgamated Wireless Australia). The station has had a number of owners. In 1968, it was bought by News Ltd, the owner of Sunday Times, Western Australia's Sunday newspaper. This was followed by Channel 9 ownership. With the takeover in 1984 by Bond Media, 6KY was sold back to AWA.
With the arrival on commercial FM, 6KY had to look for a new audience. In the 1980s it experimented with talk and easy listening format.

Between 1987 and 1989, 6KY was owned by Wesgo; prior to the FM switch. 6KY converted in 1991 and 6PM - now its sister station Hit 92.9 - changed in 1990. In 1997, both stations were bought by Austereo. KYFM was renamed as Mix 94.5 to reflect its adult contemporary format.