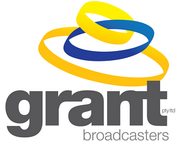 Grant Broadcasters is a regional radio network. The company started back in 1942 when Walter Grant bought the license for 2DU Dubbo, NSW.
By 1986 : Grant Broadcasters owned four radio stations... in Parkes, Dubbo, Mudgee and Nowra NSW; but only Nowra is still under Grant Broadcasters ownership.
During the 1980's : Grant Broadcasters began a period of expansion. First, 2NM Muswellbrook was added to the Nowra station along with others on the NSW South Coast, Ballarat VIC, Murray Bridge SA and Geelong VIC.
2007 : Purchased River 94.9 Ipswich from Rural Press.
2008 : With the Macquarie Media Group and Southern Cross Broadcasting merger, Grant Broadcasters had the opportunity to acquire their Tasmanian stations in Launceston, Devonport, Burnie, Scottsdale and Queenstown. This was a significant point in Grant Broadcasters growth as it moved from small independent stations to part of the Sea FM network.
2009 : Entered a joint venture with Capital Radio Network by taking a 50% holding in the Capital stations in Canberra ACT, Goulburn NSW and Perth WA.
2011 : Grant Broadcasters completed the purchase of the Fairfax regional radio assets in Bundaberg and South Australia.
2013 : Grant Broadcasters acquired Prime Media's ten radio stations in Queensland covering the Sunshine Coast, Gympie, Gladstone, Rockhampton, Mackay, Townsville & Cairns.

Most of Grant Broadcasters stations can be grouped into four formats : Top 40, Adult Contemporary, Classic Hits, Rock.
Frequency
Callsign
Name
Location
Co-locate
100.1FM
8HOT
Hot 100
NT
Darwin
Mix 104.9
93.9FM
4RUM
Hitz FM 93.9
QLD
Bundaberg
4BU
91.1FM
4MCY
Hot 91.1
Sunshine Coast
Zinc 96.1
98.1FM
2VLY
Power FM 98.1
NSW
Muswellbrook
2NM
93.5FM
2SNO
Eagle FM
Goulburn CRN
2GN
94.9FM
2WSK
Power FM 94.9
Nowra
2ST
102.5FM
2EEE
Power FM 102.5
Bega
2EC
103.1FM
3BBA
Power FM 103.1
VIC
Ballarat
3BA
95.5FM
3CAT
95.5 K-Rock
Geelong
93.9 Bay FM
93.1FM
5RIV
Magic 93.1
SA
Renmark
5RM
98.7FM
5EZY
Power FM 98.7
Murray Bridge
5MU
105.9FM
5AUU
Magic 105.9
Port Augusta
5AU
89.9FM
5CCC
Magic 89.9
Port Lincoln
5CC
99.7FM
7RGS
Chilli FM
TAS
Scottsdale
7SD
90.1FM
7EXX
Chilli FM
Launceston
89.3 LAFM
107.7FM
7DDD
Sea FM 107.7
Devonport
7AD
101.7FM
7SEA
Sea FM 101.7
Burnie
7BU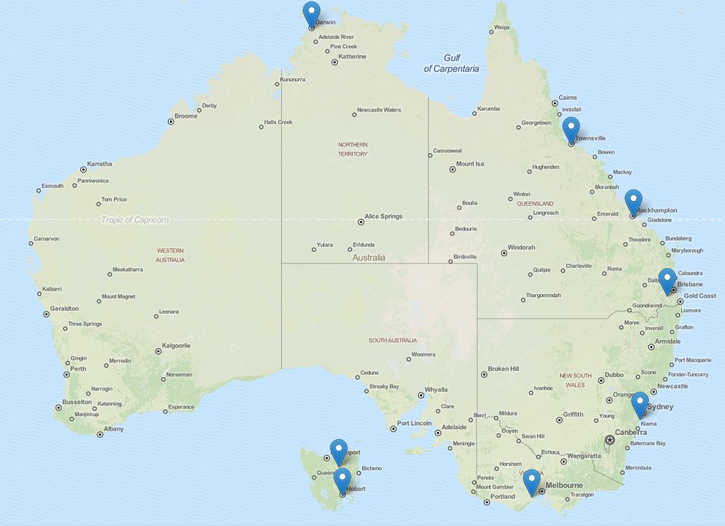 Frequency
Callsign
Name
Location
Co-locate
104.9FM
8MIX
Mix 104.9
NT
Darwin
Hot 100
106.3FM
4RGT
106.3FM
QLD
Townsville
Zinc 100.7
1584AM
4CC
4CC
Rockhampton
4RO
94.9FM
4MIX
River 94.9
Ipswich
96.5FM
2UUL
96.5 Wave FM
NSW
Wollongong
93.9FM
3BAY
93.9 Bay FM
VIC
Geelong
95.5 K-Rock
89.3FM
7LAA
89.3 LAFM
TAS
Launceston
Chilli FM
101.7FM
7HHO
101.7 7HO FM
Hobart
Frequency
Callsign
Name
Location
Co-locate
846AM
4CA
4CA
QLD
Cairns
Zinc 102.7
1026AM
4MK
4MK
Mackay
Zinc 101.9
990AM
4RO
4RO
Rockhampton
4CC
1332AM
4BU
4BU
Bundaberg
Hitz FM 93.9
981AM
2NM
2NM
NSW
Muswellbrook
Power FM 98.1
1368AM
2GN
2GN
Goulburn CRN
Eagle FM
999AM
2ST
2ST
Nowra
Power FM 94.9
765AM
2EC
2EC
Bega
Power FM 102.5
1053AM
2CA
2CA
ACT
Canberra CRN
2CC
102.3FM
3RBA
3BA
VIC
Ballarat
Power FM 103.1
801AM
5RM
5RM
SA
Renmark
Magic 93.1
1125AM
5MU
5MU
Murray Bridge
Power FM 98.7
1242AM
5AU
5AU
Port Augusta
Magic 105.9
765AM
5CC
5CC
Port Lincoln
Magic 89.9
1080AM
6IX
6IX
WA
Perth CRN
540AM
7SD
7SD
TAS
Scottsdale
Chilli FM
900AM
7AD
7AD
Devonport
Sea FM 107.7
558AM
7BU
7BU
Burnie
Sea FM 101.7
92.1FM
7AUS
7XS
Queenstown
Frequency
Callsign
Name
Location
Co-locate
102.7FM
4CCA
Zinc 102.7
QLD
Cairns
4CA
100.7FM
4RGR
Zinc 100.7
Townsville
106.3FM
101.9FM
4MMK
Zinc 101.9
Mackay
4MK
96.1FM
4NNN
Zinc 96.1
Sunshine Coast
Hot 91.1
CRN partnership with Capital Radio Network