Cruise 1323
Location
Adelaide
Format
Classic Hits
Launched
1930 (5DN)
1990 (Radio 102FM)
1993 (5DN)
2005 (SEN)
2005 (Cruise 1323)
Frequency
Current
1323AM
Previous
960AM (1930-1978)
972AM (1978-1990)
102.3FM (1990-1993)
Callsign
Current
5DN
Previous
5DDN (1990-1993)
Owner
Australian Radio Network
Network
Pure Gold Network
Co-locate
Mix 102.3
Cruise 1323 is a classic hits station in Adelaide and is owned by Australian Radio Network. The station started its life as 5DN and was Adelaide's third commercial station launching in 1930.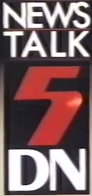 5DN has an eventful history. It was part of the Macquarie Network when it was created in 1938. In 1951, it became an official member station when 5DN was bought by Associated Newspapers, the owner of London's The News and The Mail newspapers. The station became under Australian ownership when John Fairfax Limited bought the network in 1964. 5DN became independent in 1988 when the Macquarie Network stations were sold.
As part of the Macquarie Network, 5DN was the talk station in Adelaide; and racing until 1984 when TAB bought 5AA to carry it. In 1990, two commercial AM stations - 5DN and 5KA (now Triple M) - converted to FM. With FM stereo, 5DN ended its talk format and became a music station. It was unsuccessful so its sister station, 5AD changed to FM and is now Mix 102.3. Whilst 5DN returned to AM taking over 5AD's 1323AM frequency.
During 2005, the station was leased to Melbourne's Sports and Entertainment Network (SEN). But it too was unsuccessful and 5DN was handed back to its owners, Australian Radio Network. They launched the current station, Cruise 1323 . It is part of the Pure Gold Network and partner with WSFM (Sydney), Gold 104.3 (Melbourne) and 4KQ (Brisbane).