Broadcast Operations Group is owned by Bill Caralis. BOG operates a number of radio stations in northern New South Wales and southern Queensland. These are collectively known as the "Super Radio Network".
The stations belong to one of two networks
AM Network : an over-35s talk and classic hits network headed by 2SM Sydney
FM Network : an under-35s adult contemporary network headed by New FM Newcastle
Broadcast Operations Group only has AM stations in Coffs Harbour, Port Macquarie and Orange. In 2004, Macquarie Media Group bought DMG Radio's regional stations requiring them to sell these 3 stations.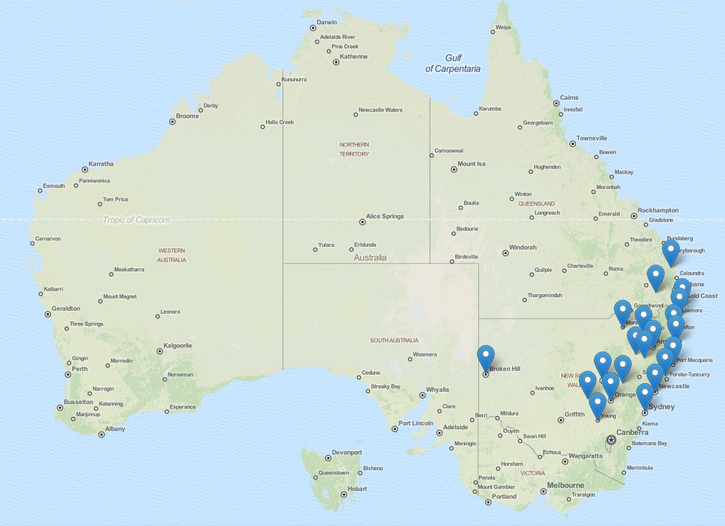 Location
Frequency
AM Network
Frequency
FM Network
QLD
Gympie
558
4GY
Toowoomba
1359
4WK
1242AM
4AK
NSW
Tweed Heads
972
Radio 97
Lismore
900
2LM
100.9
Triple Z FM
Moree
1530
2VM
98.3
Now FM
Grafton
1206
2GF
104.7
FM104.7
Inverell
1188
2NZ
95.1
Gem FM
Coffs Harbour
639
2HC
Armidale
1134
2AD
100.3
FM 100.3
Gunnedah
1080
2MO
97.5
Triple G
Tamworth
1287
2TM
92.9
92.9
Port Macquarie
531
2PM
Taree
1557
2RE
107.3
Max FM
Broken Hill
567
2BH
106.9
Hill FM
Dubbo
1251
2DU
92.7
Zoo FM
Mudgee
1449
2MG
93.1
Real FM
Newcastle
1443
2HD
105.3
New FM
Parkes
1404
2PK
95.5
ROK FM
Orange
1089
2EL
Sydney
1269
2SM
Young
1350
2LF
93.9
ROCCY FM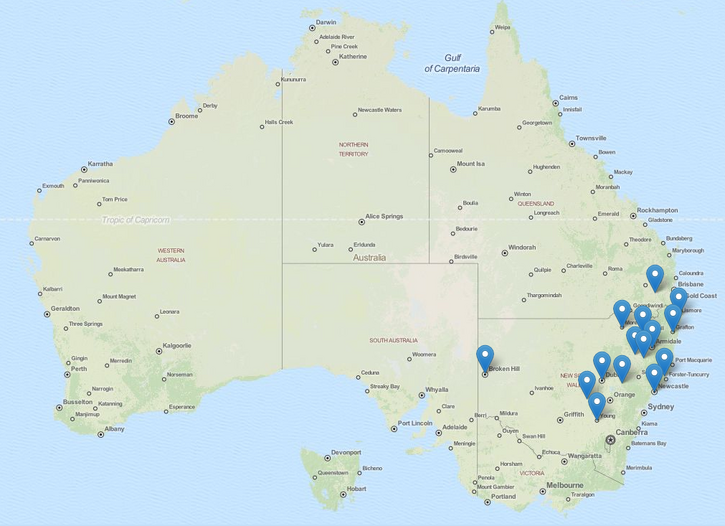 Location
Frequency
AM Network
Frequency
FM Network
QLD
Gympie
558
4GY
Toowoomba
1359
4WK
1242AM
4AK
NSW
Tweed Heads
972
Radio 97
Lismore
900
2LM
100.9
Triple Z FM
Moree
1530
2VM
98.3
Now FM
Grafton
1206
2GF
104.7
FM104.7
Inverell
1188
2NZ
95.1
Gem FM
Coffs Harbour
639
2HC
Armidale
1134
2AD
100.3
FM 100.3
Gunnedah
1080
2MO
97.5
Triple G
Tamworth
1287
2TM
92.9
92.9
Port Macquarie
531
2PM
Taree
1557
2RE
107.3
Max FM
Broken Hill
567
2BH
106.9
Hill FM
Dubbo
1251
2DU
92.7
Zoo FM
Mudgee
1449
2MG
93.1
Real FM
Newcastle
1443
2HD
105.3
New FM
Parkes
1404
2PK
95.5
ROK FM
Orange
1089
2EL
Sydney
1269
2SM
Young
1350
2LF
93.9
ROCCY FM