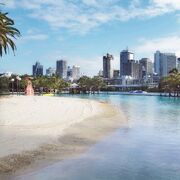 Commercial radio arrived in Brisbane in 1930. 4BC launched in August followed by 4BK (now Hit 105) in September. 4BH (now Magic 882) launched a year later in 1931. In 1935, a Ipswich-Brisbane station launched with 4IP. It became a victim of the launch of FM radio and is now Radio TAB. Brisbane's fifth and last commercial AM station launched in 1947 with 4KQ.
FM radio arrived in Brisbane in 1980. FM 104 launched and is now Triple M. In 1990, 4BK converted and is now Hit 105. After a gap of 21 years, Brisbane's 2nd commercial FM station launched with 97.3 FM; followed by Nova 106.9 three years later in 2004.
Brisbane has four commercial FM stations - Triple M, Hit 105, 97.3 FM, Nova 106.9 - and four commercial AM stations - 4BC, Magic 882, Radio TAB and 4KQ.
AM stations
Edit
| Frequency | Callsign | Name | Format | Owner |
| --- | --- | --- | --- | --- |
| 612 | 4QR | 612 ABC Brisbane | ABC Local Radio | Australian Broadcasting Corporation |
| 693 | 4KQ | 4KQ | Classic Hits | Australian Radio Network |
| 792 | 4RN | ABC Radio National | News, Arts & Culture | Australian Broadcasting Corporation |
| 882 | 4BH | Magic 882 | Easy Listening | Macquarie Radio Network |
| 936 | 4PB | ABC NewsRadio | News & Current Affairs | Australian Broadcasting Corporation |
| 1008 | 4TAB | Radio TAB | Racing | TattsGroup |
| 1116 | 4BC | 4BC | News, Talk, Sport | Macquarie Radio Network |
FM stations
Edit
Frequency
Callsign
Name
Format
Owner
97.3
4BFM
97.3 FM
Adult Contemporary
Australian Radio Network
Nova Entertainment
104.5
4MMM
Triple M
Rock
Southern Cross Austereo
105.3
4BBB
Hit 105
Top 40
Southern Cross Austereo
106.1
ABC FM
ABC Classic FM
Classical Music
Australian Broadcasting Corporation
106.9
4BNE
Nova 106.9
Top 40
Nova Entertainment
107.7
4JJJ
Triple J
Alternative Rock
Australian Broadcasting Corporation
AM
FM
Australian Broadcasting Corporation
612 ABC Brisbane
ABC NewsRadio
ABC Radio National
ABC Classic FM
Triple J
Australian Radio Network
4KQ
97.3 FM
Nova Entertainment
 
 
Nova 106.9
Macquarie Radio Network
4BC
Magic 882
Southern Cross Austereo
Hit 105
Triple M
Latest Ratings
Edit
 %
14.3

◼

97.3 FM
Adult Contemporary
Australian Radio Network
Nova Entertainment
11.6

◼

Nova 106.9
Top 40
Nova Entertainment
10.7
612 ABC Brisbane
ABC Local Radio
ABC
8.9
Triple J
Alternative Rock
ABC
8.7

◼

4KQ
Classic Hits
Australian Radio Network
8.2

◼

Hit 105
Top 40
Southern Cross Austereo
7.6

◼

Triple M
Rock
Southern Cross Austereo
4.6
4BC
News, Talk, Sport
Macquarie Radio Network
4.3
Magic 882
Easy Listening
Macquarie Radio Network
Licence Area
Edit