96fm
Location
Perth
Format
Rock
Launched
1980
Frequency
Current
96.1FM
Callsign
Current
6NOW
Owner
Australian Radio Network
Network
KIIS Network
96fm is a rock station in Perth and is owned by Australian Radio Network. The station was the start of commercial FM radio in Perth being the first and only station to launch in 1980.
The station has had many owners and two names over its short history. In 1987 Hoyts Media, owner of Triple M Sydney, bought 96fm but the station retained its 96fm name. Seven years later in 1994, the station does become Triple M when Austereo buys Hoyts Media.
In 1997 Austereo buys PMFM (Hit 92.9) and KYFM (Mix 94.5). With the "2 station rule", Triple M had to be sold.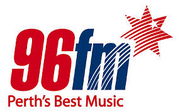 It is bought by Southern Cross Broadcasting and restored its original name of 96fm.
In 2007, Southern Cross Broadcasting merged with Macquarie Media Group and SCB stations are sold to Fairfax Media.
In 2015, Fairfax Media merged with Macquarie Radio Network. They retained their AM stations whilst 96fm is sold to its current owner, Australian Radio Network.